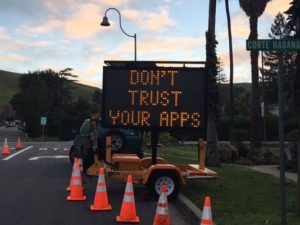 There is no denying that GPS – Short for Global Positioning System – technology has changed the way professional Security Drivers and other protection practitioners go about their jobs. Today onboard GPS navigation systems are standard on virtually every make and model of executive-level vehicle, and you'd be hard-pressed to find a Security Driver or protection practitioner whose cell phone didn't have a GPS navigational capability through an app installed by the device's manufacturer, or one (or more) which they installed themselves. In fact, it's not unusual for our students – the vast majority of whom are highly experienced practitioners – to recount tales of the guy or gal in the back seat questioning the driver's choice of routes and referring to information they are receiving in near real-time from Waze or some similar app, on their own phone.
However, as with any technology, GPS mapping and routing apps have their limits. Just ask the guys who recently borrowed a friend's vehicle for a trip to Vermont and, in following the route guidance provided by Waze, drove right into Lake Champlain; a body of water that is certainly large enough not to be missed if one were familiar with the area. But they were not familiar with the area and it was nighttime, so at least on some level, it is understandable how this could happen. For more on their unexpected trip to – and into – the lake, go to http://www.burlingtonfreepress.com/story/news/2018/01/23/waze-google-lake-champlain-car/1057316001/
Then there is the incident that occurred in Brazil in 2015 in which a woman and her husband followed the directions the apps Waze provided into one of the most dangerous favelas – or slums – in Rio De Janeiro. Their car was fired upon at least twenty times, and while her husband who was driving was not struck by gunfire, he was assaulted as he tried to leave the vehicle. His wife was not as fortunate. Wounded by the gunfire, she died of a heart attack at a local hospital a short time later. For more on this incident, go to http://www.hngn.com/articles/137603/20151007/waze-death-gps-app-directs-brazillian-woman-danegrous-slum-where.htm
Fortunately, neither of these incidents is something that could ever happen to a trained, professional Security Driver, right? Or could they? While the majority of the time the Principal is being transported from one location to another which they and their security providers are familiar with, what about those times when that's not the case? Particularly those times when the timing of the trip to an unfamiliar location leaves the protection provider with precious little time to plan?  While it may be tempting to rely solely on the technology available to us in those instances, the two incidents described above demonstrates that one is assuming a significant risk if they simply rely on technology to get them – and their Principal – from Point A to Point B safely and securely.
While in a perfect world the optimum solution is to map out and then drive the routes available to you, we don't know of any practitioner who lives and/or works in a perfect world. So for those instances when, despite having done everything in your power to avoid doing so, one finds themselves without the time to drive and survey the route that will be used to transport the Principal from Point A to some unfamiliar Point B, at the very least take the time needed to thoroughly review a map (digital or otherwise) of the route and familiarize oneself with potential hazards along or near the planned route. As always, when it comes to security-related risks like high crime areas it's best to reach out for a local contact, someone familiar with the area. But, again, when time is short and that's not always feasible, you may have to rely on a quick search of news sources to get an idea of what sort of bad things are happening in the area and where they may tend to happen.  Even if you ultimately deviate from the route, those hazards – regardless of whether they are a known high crime area or a lake – will be right where they were on the map you checked. Keeping in mind, of course, that when it comes to managing transportation risks there is no substitute for the full-scale route planning, survey, and selection process, despite what the electronic voice emanating from your onboard GPS system or "smartphone" might be telling you.
Stay tuned for the next edition of The Driving Force newsletter, where we will take a look at an app that identifies high crime areas and can route you around them.