Standard SUV: $ 475.00

Armored SUV: $575.00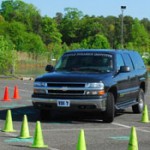 SUV Driving Skills
As the SUV has gained in popularity in both the executive transportation and secure transportations realms, so have the myths and misconceptions about what these vehicles are capable of and what drivers should – and shouldn't– do while behind the wheel of one of these higher center of gravity vehicles.
VDI's SUV Driving Skills course was specifically designed to dispel those myths and misconceptions and replace them with hard facts and proven ability on the part of the driver in order to meet the demands of today's unforgiving streets and highways. Just as VDI's core methodology has evolved over the course of more than 40 years, so have VDI's specialized driver training courses, to include our SUV Driving Skills course.
In the past several years since VDI first introduced our SUV Driving Skills as an optional addition to our standard Protective/Evasive Driving course, our approach to training with these vehicles has evolved and expanded. As a result, we now offer students the opportunity to spend almost an entire two or three days (depending on their training goals and objectives) becoming both more familiar with the different performance characteristics of high center of gravity vehicles.
Armored SUV Driving Skills
According to a recent survey by the International Security Driver Association, the use of armored vehicles, particularly armored SUVs, is rapidly increasingly in the private sector. While there are a number of factors contributing to this rise in the use of these highly specialized vehicles, the end result is that professional Security Drivers, Solo Practitioners, and other security professionals are now more likely to find themselves behind the wheel of a 9,000 or 10,000 lb armored SUV now than ever before.
With that fact in mind, VDI has expanded its existing Armored SUV Driving Skills course to a full three-day format in order to afford students the opportunity to better understand the challenges to safely and securely operating an armored  SUV. From maintaining control of one of these high center of gravity vehicles while trying to overcome a behind-the-wheel emergency to adjusting their driving techniques in order to avoid as many potential emergencies as possible.
With a strong emphasis placed on improving and refining maneuvering, braking, and reversing techniques to suit the characteristics of these specialized vehicles, this course provides participants with the knowledge, skill, and ability it takes to safely and effectively operate a high center of gravity armored vehicle in a wide range of environments and situations.