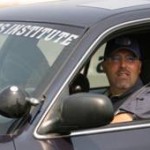 Mr. Side retired as a Non Commissioned Officer in the US Army after twenty years of Active, Reserve and National Guard service during which he was responsible, at various times, for developing and implementing a variety of training programs related to vehicle operations,  advanced driving techniques and mobile force protection tactics.
His private sector experience includes an eight year stint as a Performance Test Driver and Lead Test Driver under contract to the US government, during which time he was directly involved in the testing and evaluation of a wide variety of experimental and prototype vehicles.
Mr. Side's experience on the test track and various types of driving ranges has contributed extensively to a number of research, development and testing projects conducted by VDI and Tony Scotti Associates on behalf of various private sector entities, government agencies and industry related publications.
Mr. Side's real world experience extends to the security realm as well. He has participated in planning, managing and conducting close protection, surveillance detection and secure transportation operations in moderate and high risk security locales around the globe, from the Middle East to Latin America.