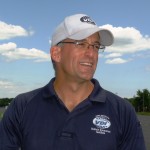 A former Non-Commissioned Officer in the US Army, Mr. Autera is widely recognized as Tony Scotti's protégé. His career in the private sector spans nearly fifteen years, during which time Mr. Autera has had the opportunity to plan, direct and participate in security operations focusing on detecting and interdicting a broad range of threats in moderate and high risk locales to include South and Central America, Europe, and both the Middle and Far East.
Prior to founding VDI, he held positions as the Director of Security with a multi-national technology concern and Vice President of Global Security Services for one of the world's leading providers of crisis management and risk mitigation services to multi-national corporations as well as non-governmental organizations.
Mr. Autera has authored articles on the subjects of driver training, threat recognition and surveillance detection which have been featured in some of the security industry's most highly regarded publications including Security Management Magazine, the FBI National Academy Associate, Intersec and the Journal of Counterterrorism and Homeland Security.
Additionally, he has been invited to speak on these topics at both the 2007 and 2009 Protective Security Conference, the American Society for Industrial Security (ASIS) 50th Annual Seminar and Exhibition, and the International Association of Counterterrorism and Security Professionals (IACSP) Terrorism Trends and Forecasts Symposium.