Pre- Paid – $ 625.00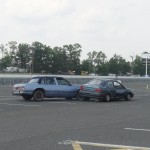 The Immediate Action Driving Skills course is designed to provide security practitioners – from the entry-level protection specialist to the highly experienced private sector, military and law enforcement professionals – the skill, ability and practical experience needed to deal with the worst-case scenario, a vehicle ambush – where survival comes down to the driver's ability to respond instinctively to the threat, when the difference between success and failure is measured in tenths of a second.
Prerequisite: Recognized Protective Driving or EP program, bona fide military or law enforcement. Call for information regarding programs that satisfy the prerequisite. Attendees subject to credential verification or background check, as appropriate.
Course Schedule for 2017
Course #

Course Dates

IADS-1710
October 20
*Call for information regarding programs that satisfy prerequisite
+Attendees subject to credential verification or background check, as appropriate