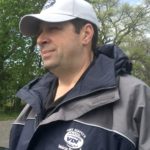 A retired law enforcement officer with over 28 years of exemplary service in a diverse community in NJ, Frank served in a variety of leadership positions in the department to include leading the agencies Special Services Unit and assignment as a Sergeant in the Traffic Division, where he was directly responsible for fatal accident investigations. Immediately upon his retirement, he joined the VDI team and completed our rigorous Instructor Development Program in 2016.
In addition to his duties with his agency, and prior to joining the VDI team, Frank spent 11 years with the Monmouth County Police Academy's Driver Training Program, where he ultimately served for 6 years as the Driver Training Program Coordinator with responsibility for managing personnel, curriculum development, and training delivery. During his tenure, the program became widely recognized as one of the state's premiere courses for training law enforcement officers in a wide range of driving skills and techniques. Additionally, as a graduate of the Maryland State Police Motor Officer Instructor Program and Adjunct Instructor at the Bergen County, NJ Police Academy, for more than 15 years he has provided instruction to Police Motorcycle Officers around the U.S.
Mr. Passantino holds instructor and train-the-trainer certifications from some of the most respected law enforcement agencies and training entities in a wide range of subjects, to include Methods of Instruction, Motor Vehicle Operations, Accident Investigation, Traffic Analysis and Engineering, Motorcycle Crash Investigation, and Criminal Investigations. In addition to these professional certifications, Frank earned numerous awards, citations, and commendations throughout the course of his law enforcement career to include Unit Citations for fraud investigations, multiple citations for the apprehension of armed suspects, multiple Service Awards for lifesaving efforts, and Commendations for response and investigation of shooting incidents, assistance in a murder investigation, recovery of weapons, and response to serious motor vehicle accidents.